Physical Appearance
Edit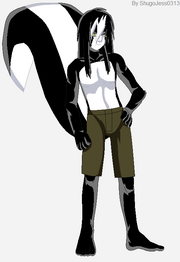 Alex is a humanoid skunk E.V.O., he has black and white fur with long messy black hair with a wide streak on the right side of it matching his fur, olive eyes and a large skunk tail. He lost his clothes, except for his shorts and has pads on his hands and feet.
As a human, he has short brown hair, grey eyes and fair skin. He wears a blue t-shirt, brown shorts, white rolled down socks and blue sneakers.
Ad blocker interference detected!
Wikia is a free-to-use site that makes money from advertising. We have a modified experience for viewers using ad blockers

Wikia is not accessible if you've made further modifications. Remove the custom ad blocker rule(s) and the page will load as expected.