Rex is now an adult and want to start a new life but his wish is not seem to be come true as he is being attacked by some EVOs and is given protection by Providence. At night, he was attacked by an EVO who have the ability to produce energy. Rex used his new weapon the Dynamic Roar. After he defeated him, he get to know that he is a 13 year old kid. He only remembered his first name which to him was Rex, Providence than took him in and Caesar got curious.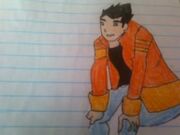 .
Characters
Edit
Sam (cosidered as villian)
Ad blocker interference detected!
Wikia is a free-to-use site that makes money from advertising. We have a modified experience for viewers using ad blockers

Wikia is not accessible if you've made further modifications. Remove the custom ad blocker rule(s) and the page will load as expected.